IDAHO OLYMPIC DEVELOPMENT PROGRAM
2022-2024 Cycle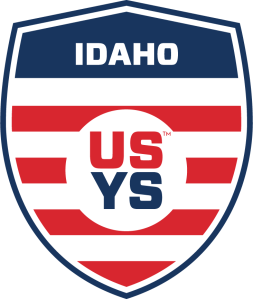 WHAT IS ODP?
The US YOUTH SOCCER Olympic Development Program, or ODP as it is more commonly called, is a national identification and development program for high-level players. The program identifies and develops youth players throughout the country to represent their state association, region, and the United States in soccer competition.
ODP teams are formed at the state association and regional levels, made up of the best players in various age groups. At the state association level, pools of players are identified in each eligible age group and brought together as a team to develop their skills through training and competition. From the state pools and subsequent teams, players are identified for regional and national pools and teams.
---
PROCESS
Players (2007's – 2012's) will be selected based on their respective tryout and training dates (info below).
The State Team will be posted with 16-18 players (12-14 players for the youngest age group) and a State Pool made up of state team alternates. The State team (with invited Pool alternates) will compete in the one to two events in November/December and the West Region ODP Championships in January. State Pool members will be invited to participate in all training but will be invited to events on an AS-NEEDED basis as alternates.
The cost for the ODP West Championships for the State Team is estimated at $800, this will be assessed upon accepting a team spot. The cost for the ODP Championships will be paid for the vans during the event, hotel (4 players per room), meals and snacks, tournament and administration fees, and coaching. The fee does not include costs for flights to and from, or those making alternate rooming arrangements (if approved by ODP). Payment options/plans will be available.
Veterans Day weekend will be the date of the pre-Championships event for the 2010 – 2012 age groups, and December at the Timbers Alliance Showcase will be the event for the 2007 – 2009 age groups. This will be used to help our teams prepare for the Championships. The cost will be separate (approximately $500, not including costs to and from) and by invitation only. Fees will be assessed upon accepting a spot for this event. All team members are encouraged to attend, as one event before the ODP championships proved very beneficial based on last year's success as a program.
Summer Regional Camp costs are separate and not included in the cost of the Championships.
The cost for the State Pool is $100.00 and will cover the cost of all pool training, all development webinars, and reserve your spot as a team alternate. State pool members will max out at 10 for the older age groups, and 15 for the younger age groups.
ODP TRYOUTS
All players need to register for tryouts through GotSport (links below).
Please do your best to attend the appropriate ODP (Olympic Development Program) tryout session for your age group but contact your age group head coach with any needs/requests. For more information regarding ODP, please click on the Olympic Development Program button below.
If for some reason you cannot attend the tryout, you still need to register for tryouts. Please contact your age group head coach ASAP and let them know you want to play but cannot make the tryout but have registered and will be on the list. I would also include a note on any previous ODP participation and contact information for your club/school coaches. Not being able to make the tryout does not preclude you from making the ODP State Team, but it can make it more difficult.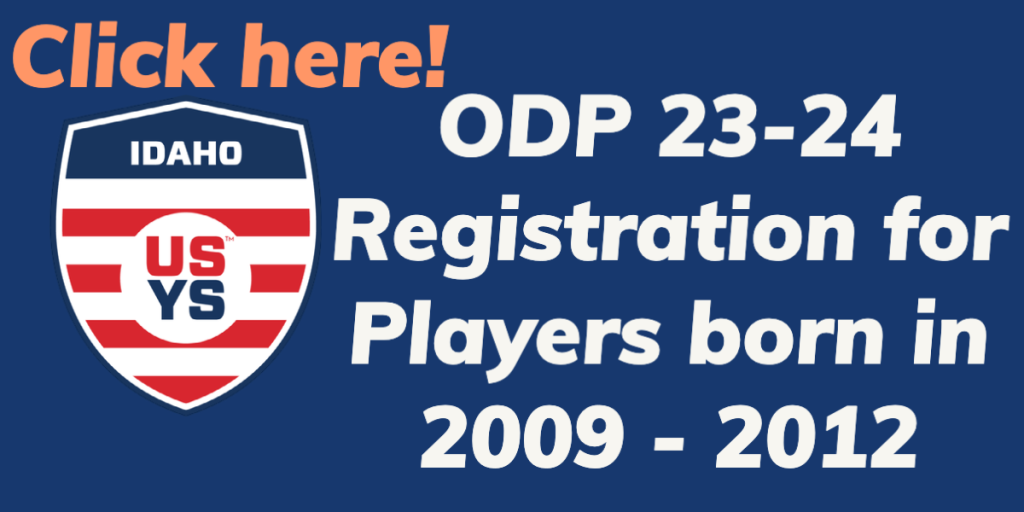 There will be two sessions (Updated with new Dates) UPDATE!! 2009 Boys and Girls will be attending the OCT 22nd Tryout Only!
August 26th 10:00am – 12:00pm and 2:00pm-4:00pm. August 27th 10:00 – 12:00pm
Location: Simplot Sports Complex
*2009's making your HS team and unable to make the August session – please attend the October Session below.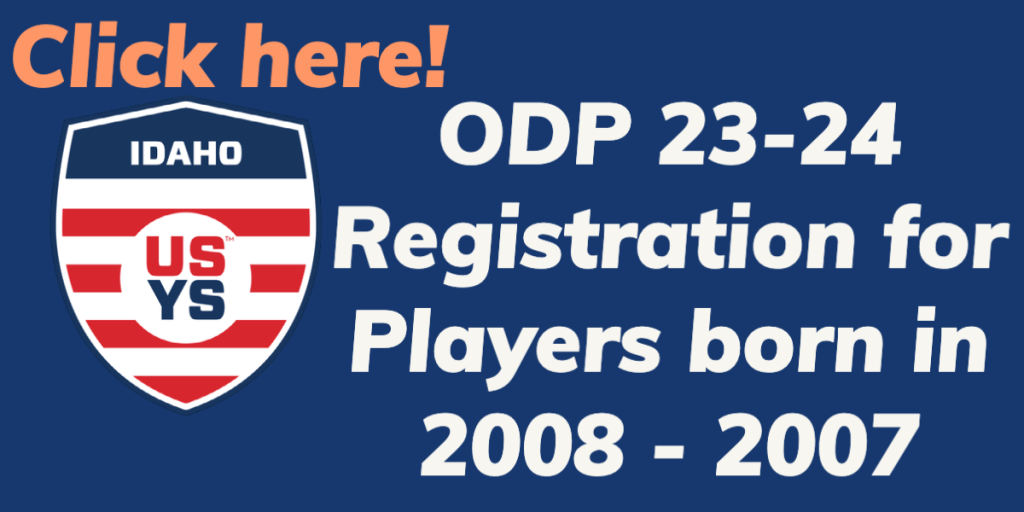 Oct 22nd 10:00 -12:00 and 2:00 pm – 4:00 pm
Location: Simplot Sports Complex
---
LIST OF POOL TRAINING DATES AND ODP EVENTS ARE LOCATED – HERE.
This list will be updated as dates are added or changed, so please bookmark the link!
STAFF ASSIGNMENTS – HERE
If you are in need of a Scholarship to participate in ODP please fill out the form HERE
Any questions regarding the Scholarship can be directed to info@idahoyouthsoccer.org